Charter Rates
Vancouver sport fishing rates
2023 Rates for Vancouver Salmon Fishing Trips
| | | | |
| --- | --- | --- | --- |
| Number of Guests | 5 Hours | 8 Hours | 10 Hours |
| 1-2 people | $ 775 | $ 1225 | $ 1400 |
| 3 people | $ 825 | $ 1275 | $ 1450 |
| 4 people | $ 875 | $ 1325 | $ 1500 |
| 5 people | $ 950 | $ 1400 | $ 1575 |
| 6 people | $ 1025 | $ 1475 | $ 1650 |
Our rates are priced in Canadian Dollars and are based on the number of guests and the length of the charter.
Rates do not include 5% GST (Goods & Service Tax), fishing licenses, or gratuities.
*Includes all tackle and equipment
*Cleaning and bagging of catch
*Extra hours $150.00/hr.
Saltwater fishing licenses can be purchased on-line or at the dock.
Multi-day trips with accommodation and larger multi-boat corporate fishing trips are available on request.
Charter Descriptions
5 HOUR CHARTERS: Our most popular trip. Perfect for those looking for an enjoyable half day on the water. We usually fish within 5-20 min. from our dock in Horseshoe Bay. These trips are usually very productive and surrounded by breathtaking scenery.
6 HOUR CHARTERS: Certain fisheries require us to travel and fish a little further away. Usually on trips that require a 30-40 min run to the prime fishing grounds, we recommend adding an extra hour which allows us to capitalize on the experience and opportunities to catch Salmon. Often Prawn and Crab traps are dropped at the beginning of these trips.
8 HOUR CHARTER: Ideal for the avid anglers. Because of the extended time on the water, it allows a greater opportunity to experience more fish and explore more areas. Prawn and Crab traps are dropped at the beginning of these trips.
10 HOUR CHARTER: From time to time…..if fishing slows down in the local waters, this trip is sometimes an option. It takes about an hour to travel to  the Gulf Islands where the fishing can be very good. Prawn and Crab traps are dropped at the beginning of these trips.
* Extra hours can easily be added to any of our fishing charters
Best times to go salmon fishing
Unlike many charter operators…we customize every trip to suit you and your best times to catch fish. We don't have a set departure time and look more at what are the peak times to ensure the best fishing based on how we have done in the days prior. The best time generally is the morning.
If you are planning your trip, here are some useful tips: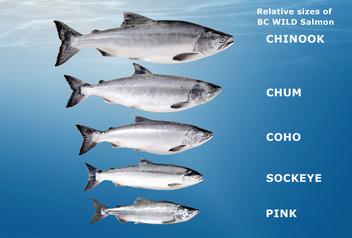 1st Choice – Morning departure within a low or high tide
2nd Choice – Morning departure
3rd Choice – Pick a tide (high or low) and plan to fish through one of these times.
*Although some times are better than others, you can catch Salmon all day long in the Vancouver area.
WHAT SALMON DO WE CATCH
The Vancouver area has a vast abundance of salmon due to many of the rich spawning river's that empty into the Georgia Strait. This along with the recent unprecedented returns of herring have all contributed to providing some outstanding world class salmon fishing. The 5 species of salmon that we catch throughout the year are: Chinook (Spring or King), Coho (silvers), Sockeye, Pink and Chum. Quite often these runs of fish overlap and the results can be unbelievable.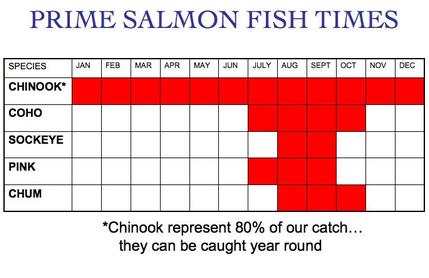 WHERE WE FISH
Usually a 20 – 25 min run takes us to the prime fishing grounds. Sometimes we are lucky enough to catch them right off our doorstep in Horseshoe Bay. Depending on the time of year and runs of fish, longer runs may be necessary. If these runs take us to the Gulf Islands or South Arm of the Fraser river, 8 hr trips and/or fuel surcharges may be necessary.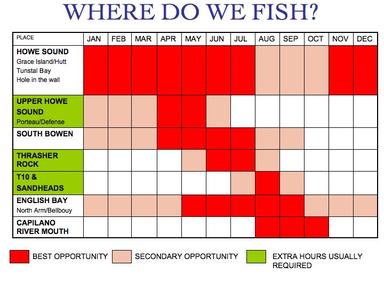 SALMON FISHING LICENCE
In order to fish and keep any salmon in BC waters, you must have a valid Tidal Waters Sport Fishing Licence. Please go on line and obtain your Licence prior to your Salmon Fishing Charter. Everyone planning to play a fish must have a Licence.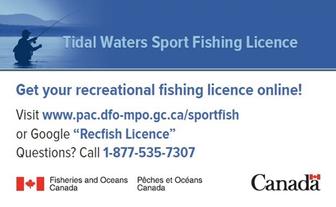 LET'S GO FISHING!
If you have any additional questions or would like to book your fishing charter, please contact us below!
Office Location
Capt. Scott Sutherland
c/o Sewell's Marina
6409 Bay Street,
West Vancouver, B.C.
V7W 3H5
(604) 323-3474
Open Hours
Always open to answer questions and confirm your booking.