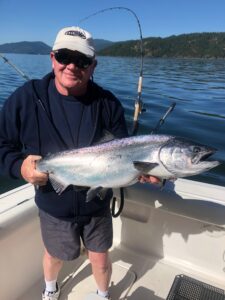 The local fishing has been fantastic….and although we are in a catch and release fishery for the Chinook salmon at the present time, when you are bringing a dozen or more to the boat on every trip, the action and picture taking is extremely enjoyable.
As the restrictions of the Covid 19 pandemic have not allowed us to fish with clients, we are hoping that these restrictions will be eased in the next few weeks. It'll be nice to connect with regular customers and new ones and enjoy this fabulous local fishery in the Vancouver waters.
With the eminent easing of the current restriction and we're able to enjoy going out fishing, please feel comfortable in knowing that we'll ensure that we are able to maintain a safe fishing environment for all.
Hope to get you out on the water in the next little while.
Best Fishes